Simplify your billing tasks:
integrate InvoiceXpress with WooCommerce
Multiple documents available
Generate multiple documents, from different types of invoices to quotes and delivery notes.
Each document can be activated or deactivated from the settings menu.
You can even automatically issue and send tax documents to your customers, without manual intervention, when the order reaches a specific status.
Information in one single place
With this plugin, management is done inside the WordPress dashboard. You only need to login to InvoiceXpress once to configure its access.
Documents are generated and stored together with each order, available forever without any expiration date. You can also send them to customers via email.
Configurations that adjust to your needs
Multiple configuration options, from limiting to documents you need and automatically setting invoices as paid after being issued, creating guides with or without values, to other advanced features, adjust the plugin to meet your needs.
And for developers, we implemented hooks (actions and filters).
Simple and fast configuration
Install the plugin, insert the license and the API details from InvoiceXpress and you're done.
Ready to start billing your customers, in an uncomplicated way.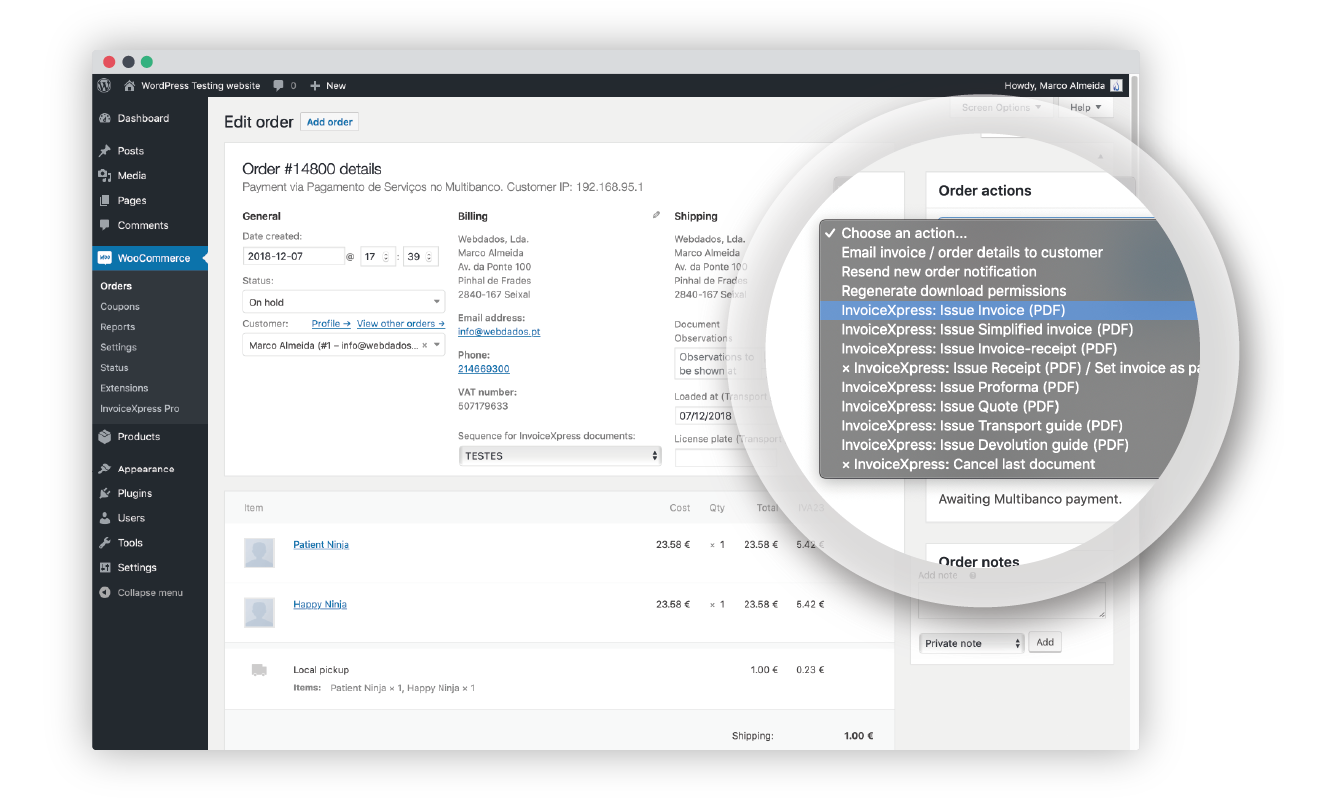 Generate documents with a click...
…or no click at all!
All the document issuing features are available from within the order actions dropdown menu.
You can configure automatic processing triggered by a specific order's state, or do it manually.
Invoice
Simplified invoice
Invoice-receipt
Credit note

Receipt
Delivery note
Return delivery note
Comply with the new B2C distance sales EU VAT rules
(Also) Developer friendly
If you're a developer you know how frustrating it is when you can't customize third-party plugins' workflows. We are developers too, we feel your pain!
With that in mind, we've added several WordPress hooks (actions and filters), so you can manipulate data and behavior according to your needs.
And because business is key, we've created special bulk licenses. Offer simple invoicing integration to your clients at a fraction of the standard price.